A Customary Court sitting in Agulu community, Anaocha council area has commended an indigene of the community, Chief Ben Obi for settling a fifteen year Ozo title tussle in the community urging others to embrace out of Court settlement to end crisis in their communities.
The Chief Magistrate of the Customary Court, Magistrate Lizzy Odum gave the charge when the traditional ruler of the community, Igwe Innocent Obodoakor, in company of his cabinate members came to the Court in respect of the matter.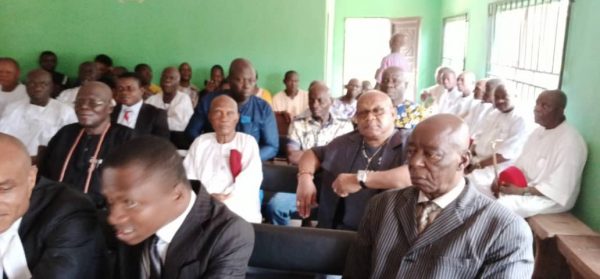 Agulu community, which has two status of Ozo title, namely Ozo Ebeteghete and Ozo Ebemunu stipulates that any Ozo title taking must be done from either of the two sections where the kindred belongs.
Hence Ozo Christopher Onyedibe, who was continuously harassed in his community over his Ozo title, alleged to be taken from the wrong section, sue the kingpin of his accusers which attracted the attention of the Igwe in council.
Magistrate Odum in her appeal, urged the traditional ruler and Chief Obi to look into other matters that originated from the tussle and initiate ways of settling them traditionally.
Speaking to Journalists shortly after the court section, Chief Obi, who said he was asked to mediate in the case, expressed happiness at their maturity in yielding to his advice and attributed the problem to communication gap.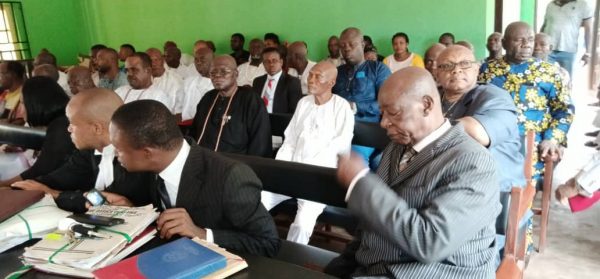 According to the Plaintiff, Ozo Onyedibe, who filed the terms of settlement testified that they have resolved their issues with the first defendant in their community and wondered why some individuals are bent on encouraging disunity among the community over event that occurred ten years ago.
The first defendant Ichie Jonathan Obi, a retired civil servant said he agreed with the plaintiff with the terms of settlement to guide them to live in harmony and thanked the court for its help in restoring peace in the community.
Barrister Celestine Osili had during the Court proceedings withdrew as the counsel to the defendant but remained counsel to the second defendant.
PULLED FROM absradiotv.com